thedothatgirl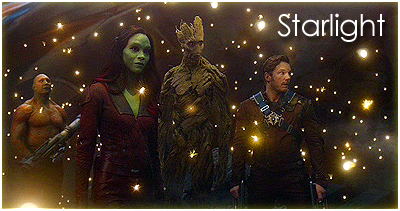 Title:
Starlight
Fandom:
The Guardians of the Galaxy
Music:
Starlight - Muse
Length:
4:09mins
Description:
Peter Quill -
you may know him as Starlord
- adventures with the Guardians of the Galaxy.
Edited April 2016
Downloads
Med mp4 64mB
HQ mp4 90mB
Embed stream and notes under the cut
Vidder Notes
:It's been nearly a year. I've had a few ideas but either wrestled with getting the source or lacked inspiration enough to actually edit a vid through to completion. This is just a basic overview, nothing clever, insightful or ambitious, but it's 'done' so that's a result in my book. And I published it on my site the day I actually saw Muse live for the first time. More on that in another post.
No AVI file of this one for a while. My PC is on it's very last legs bless, it wouldn't compress this in XviD amongst other heavy load jobs without just shutting down. Why I decided to edit when it was in this condition is a little foolhardy but I began because I kept stalling. I really want to start a creative streak that's more than wallpapers & the odd icon.